Raisins are dried grapes which can be used in confectionary industry, as a sweet table snack and mixed with nuts and dried fruits. If you are a fan of raisins you might be interested in drying them at home. Do you wonder How are raisins made? There are 3 methods that you can use in raisin making process. Aside from being so versatile, raisins are super easy to dry at home.
In this article we explain How raisins are made from grapes and The methods of preserving raisins. So, keep on reading this brief guideline about raisin production process and how kismis is made.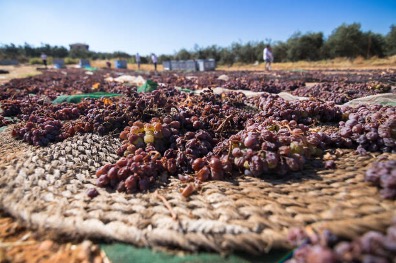 3 Raisin production methods
You can dry grapes at home based on the equipment you have. How are raisins made can differ based on your preferences on the color of the raisin you want.
How to make raisins in the sun
This method is suitable if there is warm and dry weather, where you are doing the Raisin making process. The temperature needs to be at least 24 °C (75°F).
Remove the stems from your grapes.
Run under running water to rinse thoroughly.
Choose a slatted tray so there can be air that circles through the grapes.
Spread the grapes on a baking tray evenly.
Choose a piece of cloth to cover the tray.
Place the tray in the sun. you can bring the tray inside at night or in cloudy weathers. You can place the tray outside in the morning.
Rotate the grapes every once in a while, and let them sit outside for 3 to 4 days based on the amount of sunlight it gets.
About the Raisins preservation methods, you can store the sun-dried raisins in an airtight container.
You may also be interested in this article: 6 types of the most popular raisins
How to make raisins in the oven
making raisins in the oven is a super easy process.
Preheat the oven to 225 °F or 107 °C. (for 10 to 15 minutes)
Remove the big and little stems of the grapes.
Wash and rinse the grapes with running water.
Choose a baking sheet and lightly grease them with the oil of your choice.
Spread out the grapes with some space between them so they do not stick together.
Bake for 4 hours in the oven. Keep in mind that it takes more time for bigger grapes to dry.
Take out from the oven and let it cool for at least 30 minutes.
You can preserve the raisins in an airtight container and refrigerate them.
How to make raisins in a dehydrator
If you have a dehydrator at home, this method can be the best one for you.
Remove all the stems of the grapes.
Wash and rinse thoroughly with running water.
Spread the grapes on the dehydrator's tray. Keep in mind not to over load the dehydrator.
Set the temperature to 135 °F or 57 °C. if your dehydrator has a drying fruits mode, turn it on.
Let the grapes dry for at least 24 hours.
You can check up on them every now and then to make sure they are not too dry for your liking.
Remove and let them cool completely.
Store in a sealed container in the refrigerator.
How are golden raisins made ( Raisin making process )
Drying grapes often drives them to turn to a brownish color. If you are interested in knowing how are golden raisins made, Golden raisins are often dried in a dehydrator and contain sulfur dioxide, which is used as a preservative and to prevent their skins from darkening, making them gold in color. Golden raisins are known to be moister and plumper compared to other types of raisins.
To view the raisin products and inquire about the price, click on the opposite link: ‌Bulk raisins wholesale
Bottom line
If you are looking for high quality Iranian raisins, Kourosh foods can be the perfect choice for you. To start a healthy lifestyle, you need a superfood in your diet and it can be raisins. For ordering high quality Persian raisins online, check out Kourosh foods website as the best raisins supplier and producer of all kind of Iranian dried fruits.