different type of raisins (kismis)
The four-season climate of Iran and its high quality soil are two main reasons that Iranian grapes are very tasty and have a unique and sweet taste. iranian raisins are basically dried high-quality grapes that are grown in the vast fields of Iran. Iran is the one of the third largest exporter of raisin in the world by exporting nearly 7% of global consumption of the best raisins. Iran's best raisins to eat are grown in many areas of Iran such as Malayer, Qazvin and etc. different types of raisins require different growth conditions.
Different kinds of raisins
1. Golden raisin
The color of golden raisin ranges from yellow, golden or greenish yellow to light amber. Harvested grapes are dipped, shade dried and sulfur treated although it is important that the residue be limited and below 2000 ppm. This type of raisin with a predominating yellow or golden color, has a unique almost smoky and tart after-taste.
Click to inquire about the price of Golden raisins : Golden raisins supplier
2. Sun dried raisin
This type of iran raisins is naturally dried under the sun without the dipping process that makes caramelizing of the fruit's sugars contributes towards producing the different taste in raisin. The color of sun dried raisin is mostly dark brown.
3. Malayeri raisin
Malayeri raisin is unique in color, it naturally has light brown color. This type of raisin is almost the same as Sultana raisins but the difference is that Malayeri raisin is less sweet and lighter in color compared to Sultana.
 This raisin has sweeter taste compared to other types of raisins. The color scale ranges from light to dark as well as various size options. For the dipping process, it is dipped in a solution of Potash and oil to accelerate the drying process and make the color of the raisin lighter. 
Click to inquire about the price of Sultana raisins : Sultana raisins supplier
5. Kashmari green raisin
Kashmari green raisin is characterized by its long size from Pekami grape. Iran Kashmari green raisin is famous for its sweet taste and distinctive sour underlying taste which is more suited to eastern.
6. Kashmari golden raisin
Golden Kashmari raisin is characterized by its long size from Pekami grape. If the raisin gets SO2 treated, the name changes to "golden kashmari" or "golden long raisins". SO2 treating make the color yellow to golden and to keep the color gold, they do not dry it under the sun.
Famous raisins in the world
There are other countries beside Iran that produce high quality raisins. Some of these different kinds of raisins are mentioned below:
• Currants
Currants are basically dark raisins. They are typically produced from an ancient grape variety which was traded in Greece. They are also known as Zante currants and often mixed with raisins and mixed with dried fruit and nuts.
• Munakka
Munakka is basically dried grapes which are bigger in size if compared to kismis. Munakkas are pulpier than kismis and are brown in color. Munakka is known for curing constipation, strengthening bones and they are also known to aid in weight gain.
• flame raisins
Flame raisins which are also known as red raisins are produced from red grapes. They are large in size and dark in color. Red raisins are known to lower the risk of diabetes and can improve eye sight.
Nutritional facts of Iranian raisins
Different raisins types contain different amounts of nutritional value.
100 grams of best raisins has 319 Kilo Cal, 68g Carbohydrates, 3.5g Dietary Fiber, 1.25mg Iron, 63mg Calcium and 0.2g fat.
It is a perfect source of energy and they have a great amount of Vitamins and Minerals, in addition to Protein and dietary Fiber. Raisin's Vitamins and Minerals include Potassium, Calcium, Iron and etc. therefore, they are considered as a perfect snack for special dietaries.
You can consume up to 1.5 cups of raisins per day.
They are one of the most nutritious dried fruits in the world. Raisins are cholesterol-free, low in sodium and totally fat-free. Due to high fiber, eating a few raisins per day improves memory and lowers blood pressure.
To point out some health benefits of raisins, it is worth mentioning that:
They are proved to be beneficial for curing different kinds of heart disease by reducing blood pressure and blood sugar.
Studies suggest that there is a possibility that they can reduce the risk of chronic conditions like diabetes, osteoporosis, and cancer due to high levels of anti-oxidants.
Raisins are a rich source of fiber which can aid our digestion system and reduce potential stomach issues.
Raisins usage in our very day diet
Different types of dried grapes which are basically called raisins are vastly used in confectionary industry from cakes to muffins and cookies. They are also an inseparable ingredient in western cuisines. They are a natural sweetener therefore; you can consume them with your tea to replace artificial sweeteners such as sugar.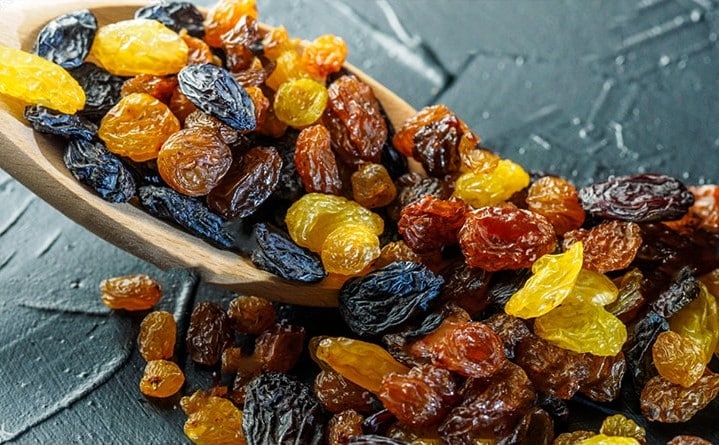 raisins price in Iran
Iranian raisins are amongst the finest raisins in the world. They have a high quality and the raisins price in Iran is very affordable. The price usually depends on the type of raisins and the quality you request for.
To view the raisin products and inquire about the price, click on the opposite link: ‌Bulk raisins wholesale
To sum it up
Now that you know the health benefits of Iranian raisins its time that you add the best raisins in the world in your diet. If you are looking for a high quality Persian raisin, you can check out Kouroshfoods website as one of the best suppliers and producers of all kind of Iranian raisins.